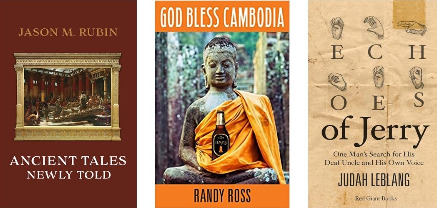 Limited time offer: Three books by members of the New England Indie Authors Collective (NEIAC) at a special price for the 2021 holiday season.
The NEIAC 3-Pack consists of:
· God Bless Cambodia, a racy comedy about travels gone awry, by Randy Ross
· Echoes of Jerry, a memoir bridging loss of innocence, familial love, and hearing loss, by Judah Leblang
· Ancient Tales Newly Told, a collection of two historical romances set in Biblical times and 17th-century England, by Jason M. Rubin
You get three high-quality paperback books—a $45 value—for only $36! And we're happy to sign them if you wish.